So has anyone seen the new
Madonna
film clip?
:HUf ihqdqcUHDIQCHD;&yr*#hIAFlLPSs ..d"jofirj
Sorry, I just kinda went all weak and fell onto the keyboard. That's not to mention the
dribbling
.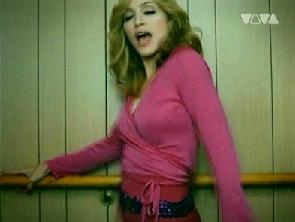 If you haven't seen it, its pretty much Madonna getting about in a
tiny little leotard
, throwing her impossibly small bottom around in a hypnotically
jiggly
kind of way.
And she keeps looking at the camera in a very h0tt, sultry "I'm so hot and unobtainable, so fuck you, right now, fuck, fuck, fuckity fuck, fuck" kind of way.
Brbrbabbbleh
*dribble* *dribble*
Don't look at me like that! It is seriously
mesmerising
.
The clip was on
Video Shits
on the weekend and kinda led to the following:
Lovely wife (from the next room): come on, let's go out to breakfast.
Me: ……
Lovely wife: Hel-lo!?!
Me: ….. um, just a minute...
Lovely wife (coming into the room and seeing the TV): Oh. I see.
Me: ….
Lovely wife: Ok, you can stop dribbling now. And you can also stop moving your head up and down in time with Madonna's high-kicking dance moves, thank you very much. And I'm a bit concerned that you haven't blinked in about 2 minutes and 36 seconds.
Me: I'm powerless!
Lovely wife: Gee, she really has an impossibly small bottom, doesn't she.
I think she just might mount a challenge to
Beyonce
(in
Austin Powers: Gold Member
, and also when she is in the giant cocktail glass in the
Naughty Girl
film clip) and hot, wet, cage-dancing
Portia De Rossi
in
Arrested Development
, on my list of lovely lady celebrities of the hour.
Really really important disclaimer: All of these women are NOTHING in comparison to my lovely lovely wife...